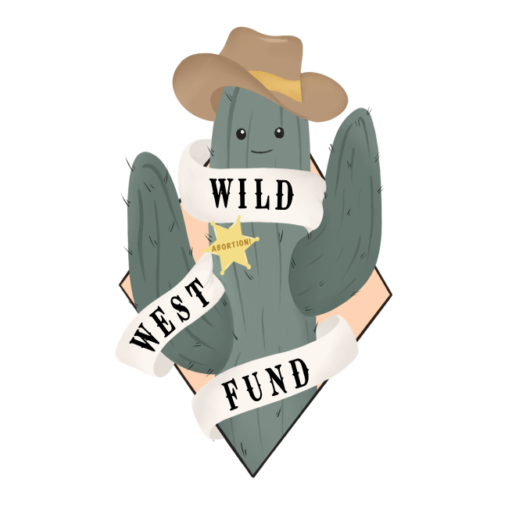 Up until June of 2021, according to the National Network of Abortion Funds (NNAF), Nevada was just one of five states without an established abortion fund. We started Wild West Access Fund of Nevada because we believe everyone should have the final say in their own reproductive decisions, and because we believe in community power. Within a week of starting, we had raised over $1000 from grassroots supporters.
Our team is pro-abortion and believes there should be no stigma in the choice to terminate a pregnancy. We're growing every day, and we hope that you will join us in the fight to ensure that all Nevadans have access to abortion care.
We started Wild West Access Fund of Nevada with the goal of creating a permanent resource for Nevadans in need of abortion care. As a mutual aid fund, our work relies entirely on donations from community members. We aspire to cover as much of each caller's procedure as possible, so our work is volunteer-run and all donations go directly to our callers. As of September 2021, our average pledge to our callers was $300 - a significant relief for callers facing $600 or more in abortion care costs in our state. Beyond financial assistance, we offer other forms of practical support and can connect callers to resources following their abortion procedure.
Carla Ramazan

she/her
Carla Ramazan grew up in Reno and is an original founder of Wild West Access Fund of Nevada. In her role, she oversees fund development and community relations. Her vision was to create a long-term resource for Nevadans in need of abortion care. Carla has over 5 years of experience organizing for reproductive justice in her community and worked with a Dallas abortion fund in the past. In 2020, she was recognized for her advocacy and community activism by winning the Truman Scholarship. Carla wrote her Honors Thesis on crisis pregnancy centers and the risk they pose to reproductive health. She charges $5 if you ask her race and is the proud daughter of immigrants.
Jameelah Lewis
she/her
Jameelah Lewis joined the Wild West Fund while acting as the newest Advocacy Teams Organizer for Friends Committee on National Legislation, and following her role as a former state PREA (Prison Rape Elimination Act) Coordinator/ Advocate at Signs Of H.O.P.E. With a passion to make an impact on the prison-industrial complex, and her community, Jameelah has centered her personal and professional life to amplify transformative work. After graduating from UNLV with a BA in Criminal Justice minoring in African American and African Diaspora Studies, Jameelah was leaving campus life and national social justice networks to focus her energy on community restorative and transformative justice movements. Eager to find her next calling, Jameelah became a YP4 fellow (now alumni), Advocacy Corps Member (now alumni), Community Activist with the Mass Liberation project, and continues to push forward in these efforts as a board member for The Wild West Fund. As a community activist Jameelah has been involved with creating spaces for people to engage in healing, art, legislative action, protest, and just showing up to offer support.
Not only an advocate, but an ACTIVIST for social change, equity and anti-violence, Jameelah has committed to supporting her community in building a better future for generations to come by empowering folx to use their voice and act today.
Macy Haverda
she/her
Originally from San Antonio, Texas, Macy is incredibly embarrassed and horrified by all asinine anti-choice policies that come out of her birth state. She is passionate about improving organizational culture and holistic employee capacity-building. Prior to moving to Las Vegas for her job as the ACLU of Nevada's Director of Finance & Administration (AKA all the sexy behind-the-scenes stuff), she worked as an operations director for a San Antonio nonprofit animal rescue where the live release rate increased from 30% to the national benchmark of >90% during her tenure. She graduated from Tulane University with a Master in Healthcare Administration where she wrote her thesis on using telemedicine to increase access to abortions in states with large rural populations. Macy is passionate about her small family (no kids, don't ask if I want any), traveling as far as possible as often as possible, memes about pit bulls, good wine, occasionally running very slowly, and sometimes picking up heavy stuff and putting it down.
Jasmin "Jas" Margarita Tobon
she/they
Jas joins the Board with a career in LGBTQ+ advocacy, gender equality and reproductive justice. They are a highly self-motivated, adaptable and persistent organizer and community advocate. She is also deeply thoughtful and passionate about the work challenging cultural norms and ideas by serving on national and local boards and non-profits.
Tiffany Stoik
she/her
Tiffany Stoik is a community organizer who works to build a world that works for everyone, not just the wealthy few. She's passionate about fighting for reproductive freedom, healthcare for all, prison-industrial complex abolition, and a planet that is livable for generations to come.
Jakki Durón
she/her/hers | ella
Jakki is a first-generation, queer Salvadoran-Honduran-American from Sparks, Nevada. She currently serves as the manager of Raíz + Latinx Campaigns. In her role, she provides support, coaching, and direction of the Latinx organizing strategy for Planned Parenthood. Prior to her role, she engaged communities of color around racial and reproductive justice in Portland, OR with Forward Together. When she's not organizing for liberation, Jakki enjoys making Tik Toks and watching Love Island (UK).
Maureen Scott
she/her
Maureen Scott is an original founder of Wild West Access Fund and leads internal operations and community outreach. Her long-time passion for reproductive justice and improving Nevada's access to healthcare also led her to pursue a career in medicine. She resides in Northern Nevada with a surprising number of cats, 2 pitbulls and a pug.
Caitlyn Caruso

they/she
Caitlyn Caruso, 24, is a young queer femme activist in Nevada. She manages Wild West Fund community outreach in Las Vegas. While her passion is for sexual health education and reproductive justice, they have worked across a wide range of issues that impact young people in particular, including gun violence prevention, sexual assault awareness/prevention, and immigrant justice. Her work has been firmly rooted at the local and community-based level, however, Caitlyn's work has received national attention including a spotlight on The Daily Show featuring her community's struggle for comprehensive sexual education. When they aren't working, you can find them painting, drawing, and cuddling with their two cats and partner.
Lauren Beal
she/her
Lauren Beal is a recent transplant to Reno from Baltimore, MD. She is a public health professional who has been working in the intersections of reproductive justice and criminal legal system reform for over ten years. In her free time she likes to garden and walk her dog Fig.
Clair Monteith
they/them
Clair Monteith is a Reno local who assists with Wild West Access Fund's outreach. They have a passion for helping others and stand for reproductive freedom for all. Clair currently studies social purity movements at UNR and enjoys spending time with their pup, Rocket.
Melissa

she/her
Melissa creates Wild West Fund's merchandise and graphic designs. She is passionate about healthcare that works for all, not just the 1%, and cannot like things in moderation.
McKenna Carmen
she/her
McKenna Carmen is a Las Vegas local who helps with Wild West Access Fund's intake and social media. She's passionate about law and human rights which has carried over into her volunteer work with WWF. She's currently studying political science at UNLV. In her free time, she loves traveling and meeting new people!
Claire

she/her
Claire runs Wild West Access Fund's social media and graphic design. She grew up in Reno but has lived in Montana and Oregon working for environmental organizations and writing about social justice and nature. When she's not at her desk, you can find her reading or looking for less crowded places somewhere in the woods.
Volunteers are the backbone of our work. Wild West Fund is entirely run by unpaid volunteers who dream of a world where abortion care is free and accessible to all. We'd love to have you on the team! If you would like to volunteer, please fill out our volunteer form and we'll be in touch shortly.