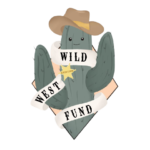 Frequently Asked Questions
Who are you? What do you do?
The Wild West Access Fund is an entirely volunteer-run 501(c)3 organization based out of Nevada that seeks to eliminate financial costs and other barriers to abortion care. We aspire to cover as much of each caller's procedure as possible and all funds are redistributed directly to our callers. Beyond financial assistance, we offer other forms of practical support and can connect callers to resources before and following their abortion appointment.

Learn more about us here!
Where do you get your funds from? Are they all donations?
Great question! We rely on donations of all sizes from our amazing community to support abortion seekers. We especially love to see folks sign up for monthly recurring donations, as little as sparing $5 a month goes a long way! It helps us map out available funding further in advance. We also apply for any grants from outside organizations that we may qualify for! Basically, we fund abortion and we can't do it alone. Donate here!
What volunteer opportunities do you have?
We have to take this opportunity to shout out our AMAZING volunteers! Volunteers help us run our intake line, deliver after care kits, and create content for our social channels - among other things! If you're interested in volunteering, click the link to

fill out our volunteer form

and learn about opportunities as they come up!
What volunteer opportunities do you have?
Medication abortion, also known as taking "abortion pills," is safe and effective for those who are less than 10 weeks pregnant. With medication abortion you'll have a video appointment with a provider who will talk you through the process and mail you the pills. Then you can take them in the comfort of your home. Medication abortion is typically significantly less expensive than in-clinic abortions and the Wild West Access Fund may be able to help cover the cost. Contact us to learn more.
How will things change for you if Roe v. Wade is overturned?
First and foremost, abortion is legal in Nevada now and will remain legal in Nevada even if SCOTUS overturns

Roe v. Wade.

The Wild West Access Fund of Nevada will remain available to assist abortion seekers with funding and practical support. Because of the attacks on abortion across the country, we anticipate an increase in requests for assistance from callers who will be traveling from outside of the state. So we're working to ramp up our fundraising efforts in advance of the SCOTUS decision this summer. Which means we're going to drop that

donate link

one more time!